D8071: perfect space illumination – elegant design – perfect space acoustic
Our acoustical Frames offer perfect and elegant solution for almost every scope of application. The system may also provide mere noise control: on an LED Basis, moreover with integrated space Illumination and/ or surround light halo as light accentuation.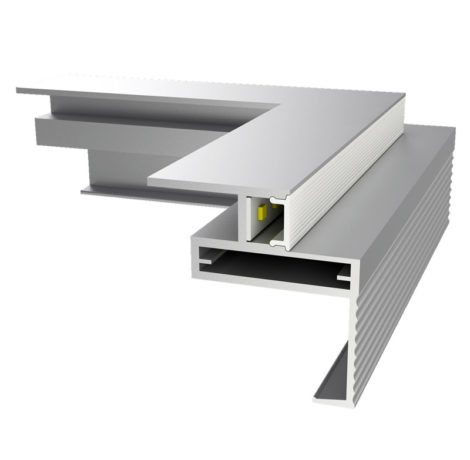 The system consists of the following components:
Aluminium profiles in finish E6/EV1 oder E6/C31 (more finish on request)
Acoustic polystyrene foam or acoustic light boards in several patterns
Incl. LED panel or LED bulbs on request
Accentuated surround LED illumination incl. diffusor profile
Easy fit set of Fittings for quick and adjustable mounting
Incl. Steel rope system for faste´ning to the ceiling
Fields of application:
Ceiling fastening
Wall fastening
Ceiling banner
Individual production of frames, 1 pieces.
Rahmen-Ansicht rückseitig mit LED-Konverter. Körperschall-Soundsystem und Lightboard-Platte
Rahmen-Ansicht als Deckensegel mit Akustik-Schaumstoff und LED-Strahler
Rahmen-Ansicht ohne Füllung zur Wand / Deckenbefestigung
---
We have renowned partners for the acoustic material: